Gwinnett Home Improvement Company and Handyman Services
Serving Gwinnett County and DeKalb County in Lilburn, Lawrenceville, Mountain Park, Snellville, Smoke Rise, Tucker, Stone Mountain... A reliable contractor providing quality service with integrity since 2002. Call

770-235-3684

for help with your project.


A professional handyman for your drywall, painting, plumbing, leak repair, appliance installation and more ... we do your 'homework' for you!
If you're looking for an honest, ethical and reliable contractor to do a small project around the house, or you have several large home improvement projects in mind, Handyman Logan is the right choice. In Gwinnett and DeKalb, we've had hundreds of satisfied customers through the years. In fact, many customers call us again and again whenever they need something built, installed or repaired. And referrals are our top source of business!
These are just a few of the "Honey Do List" type of home repair and improvement projects we frequently provide our homeowners and landlords:
Attic Insulation
Crawl Space Insulation
Cabinet Painting
Carpentry
Caulking
Crawl Space Vapor Barrier
Deck Installation, Stain and Repair
Door Installation and Repair
Electric Fixture Replacement
Exterior Siding Repair
Faucet Repair and Replacement
General Weatherproofing
Gutter Cleaning
Install Handicap Hand Rails
Interior Painting
Landscaping Needs
Pressure Wash Or Exterior Cleaning
Roof Leak Repair
Rotten Wood Replacement
Screen Replacement
Secure (board-up) Foreclosed Homes
Sheetrock Repair
Siding Replacement
Sump Pumps
Tile Installation
Toilet Repair
Water Heater Installation and Repair
Window Washing
Wood Fence Installation
YOUR Project!
For home improvement projects, installations and handyman work, contact us now for a free estimate:
About The Owner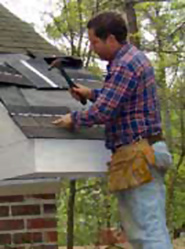 November, 2023 — My name is Logan Carlisle. I started Handyman, Inc. in 2002 and have been blessed with hundreds of great customers and a job that remains challenging and enjoyable. And while the name of the business is Handyman, Inc., most folks just call me "Handyman Logan."
Being a handyman is fulfilling because you get to do so many different types of work—no two days are ever the same! You might visit five customers in a day or you might work at the same home for a week. (If variety is indeed the spice of life, then I have the perfect job.) Plus, you get to meet some of the nicest people along the way.
I have always enjoyed learning new information, and building or repairing things; this job provides an abundance of these opportunities.
Living in Gwinnett County, very close to DeKalb County, I am usually within 15 minutes of most customers, and this allows for evening or weekend appointments in the event of an emergency.
On Angie's List, you will find that my customers have provided very positive feedback. Look for "Handyman Inc."
If you need an experienced handyman that you can trust, please contact me by phone or email. We'll get your "homework" done!
Handyman, Inc. Reviews
Over the past several years, I've had the opportunity to work with Logan on numerous jobs. He is one of the most hardworking, reliable and honest people that I've encountered in this industry. I'm confident in saying that I'll continue to use him on future projects.
Bob Fitzgerald, Fitzgerald Construction
What more could I say about Logan Carlisle, Handyman Inc. than is said from his quality work and professionalism over five years on three different properties. I don't remember the first job that I contracted with Logan on, but my concerns were the fact the Logan was just starting out ... His Christian philosophy, his background, and his attitude convinced me to give him a try. My wife and I have used him exclusively over five years on our former home, and our new house, as well as our daughter's condo. I know and trust Logan and literately can call him, describe a job to him, get a general idea of cost, and tell him were to find the keys to the property. Logan has done at least 20 jobs for us ranging from simple repairs and inside painting to complex tile work in kitchen and bath work as well as plumbing for a basement rehab. You can call me anytime at 404-229-9922 to confirm this. I will also tell you that I'm Mr. Perfectionist ... I'm not happy with the usual painters job, or the mess that most contractors leave when they are done.
Mike and Mary O'Connell
Social critics have suggested that we live in an "age of incompetence." So, it came as a splendid surprise to the Lindeman family to personally discover that HandymanLogan actually was "handy" (speaking professionally) and, importantly, a "man" of his word! You ask; he does! Solid workman; fair prices.
Jan and Bard Lindeman, Repeat Customers
I've called on Logan a number of times over the past 10 years or so, and will continue to do so whenever there's something I need help with. I've gotten to know him fairly well, and trust him completely with big projects and the occasional to-do I would do myself, if I had the time! I've had other companies and contractors here for different types of work that were, honestly, rude. Not so with Logan, he's a pleasure to deal with. Highly recommended.
Thomas H., Repeat Customer
Lilburn, GA
We will be glad to recommend you to anyone either by E-Mail or by telephone. You have helped us many, many times over the years and we have always been completely satisfied with your service.
Patricia and David
Handyman Inc. provides the best service I have ever received from ANY company—too bad they don't work in other industries. I recommend Logan and Handyman, Inc. services for anyone looking to have quality work contracted at a fair price with honesty and sincerity. Having used other contractors / handymen before meeting Logan, I thought it was normal to have to check behind work, negotiate through surprises, and be concerned about getting the best price. I've used Handyman services for a little bit of everything, each time Logan provided me advise, a fair price, lower price alternatives, and a committed schedule of events. When I think of Handyman Inc. services, I think of three words - Honesty, Integrity, Quality. I would recommend them to anyone and guarantee their work with my own money.
"single professional homeowner on a budget!"
Frequently-Asked Questions
What counties does Handyman Inc. service?
We work primarily in Gwinnett and DeKalb counties. Our typical service areas include: Mountain Park, Lilburn, Lawrenceville, Snellville, Smoke Rise, Stone Mountain and Tucker.
What kinds of services does your company offer?
Handyman, Inc. is a full-service repair, maintenance and home improvement company specializing in most all of the around-the-house handyman tasks that everyone has on their to-do-list. We'll help you get it done, and done right!
What is your specialty?
Our niche or specialty is that we can do most any job you need done around the house; no need to call three or four different contractors to get your different home improvement jobs done. We can repair a leak, install a ceiling fan, patch or replace drywall/sheetrock, replace rotten or damaged siding, or paint walls and trim ... you name it! The broad range of our services makes Handyman, Inc. both convenient and cost effective.
Who will come to my home?
You will deal with the owner of the company. We have two handymen that handle 90% of our customers needs. No sub-contractors are used unless the homeowner requests us to assist them in putting together a team to accomplish a large job. The owner is on-site and doing the work on almost 100% of our jobs.
Can I get an estimate for my job?
We offer free estimates for jobs that will take multiple days to complete. Because many of our jobs average one day or less, it's not cost effective to do on-site estimates for these "quick" projects. However, we can give you a generally-accurate estimate over the phone or email if you can describe the items you would like done. Any change in this "off-site" estimate will be discussed with you before proceeding with the job.
How is payment made?
You may pay at the time the service is complete or we can invoice you with a detailed invoice. No up front cost for starting the job or materials' cost are required. Payment is not expected until the job is complete and you are happy.
How do I contact Handyman Logan?
We were hoping you'd ask! By phone or email...